Heated Kneading Back and Shoulder Massager
Regular price
$130.00 USD
Sale price
$99.99 USD
Unit price
per
Sale
Sold out
🔥Buy 2 Get 20% OFF Today🔥No Code Needed🔥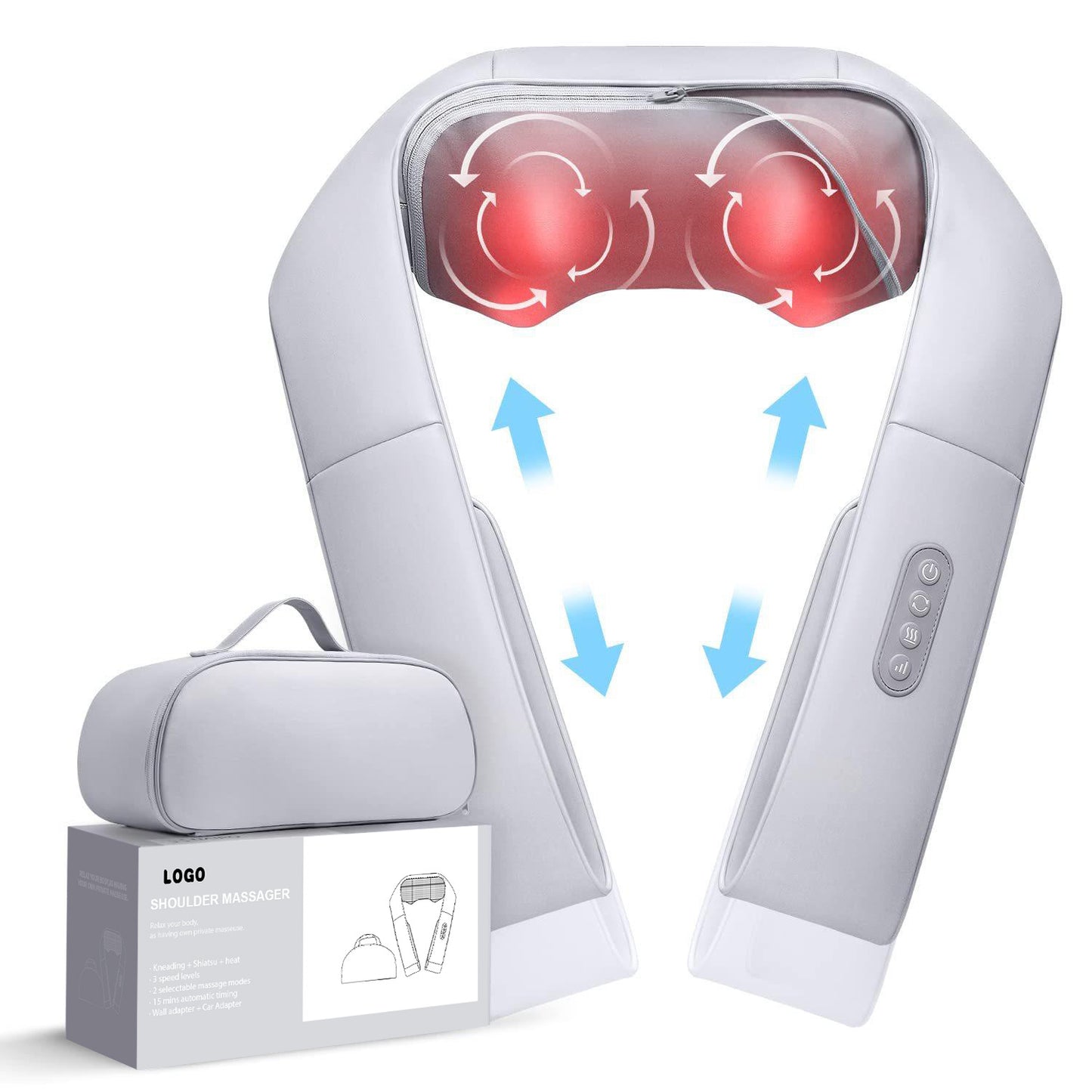 We Got You!
Neck pain is a common complaint in the United States. Neck can be strained from sleeping with your neck in a bad position, jerking your neck during exercise and poor posture - whether it's leaning over your computer or hunching over your workbench. This wireless neck massager is a way to achieve deep relaxation of cervical spine. Getting frequent massages can be most beneficial.
Relief
𝗥𝗲𝗹𝗶𝗲𝘃𝗲𝘀 𝗦𝗼𝗿𝗲 𝗠𝘂𝘀𝗰𝗹𝗲𝘀 & 𝗦𝘁𝗶𝗳𝗳𝗻𝗲𝘀𝘀: Our powerful deep-kneading shiatsu massage nodes automatically change direction every minute to help reduce overused, tense and tight muscles. The soothing heat function alleviates aching muscles by transferring warmth to the muscles.

Soothing heat therapy & 3 intensity levels: Heating on massage rollers give your body warmth and improve your blood circulation while relaxing tense muscles. 15 mins intelligent auto-off timer and overheat protection system bring you hassle-free safety though you forget to turn handheld massage pillow off.
Versatile
Enjoy a 3d massage on the ride: Shiatsu shoulder massager comes with an AC adapter (100-240V ) and Car adapter (12V DC). Portable size makes it is easy to carry, it's easy to use for home, office, traveling, camping, car, or more. Pure electric copper motor will run more efficiently and safely, which makes a maximum volume of 55 decibels, no worry about disturbing people around you
COMFORTABLE TO WEAR
The skin-friendly, breathable soft silicone base makes the electrodes floating at 360 degree, and the U-shaped traction is closer to the skin, which can adjust automatically and fit tightly of Americans' neck size.
Free Shipping
Enjoy Free Shipping Today
Effective Pain Relief
Drug Free Neck Pain Relief
Secure Payment
via Credit Cards or PayPal
I liked this massager. Due to my work in dentistry, I have so many problems in neck part and it's really helpful. I feel relaxed after one good massage.
PENNY - CANADA
The neck massager was well needed as I found out I had a pinched nerve which turned out to have an operation in late November.
Moses - USA
I like that it relieves the pain and relaxes the back of my neck so I can relax.
ROBIN - USA
I bought this for my daughter to uses a computer for many hours a day, sometimes as many as 10 or 12 hours a day. She loves it.
TED - AUSTRALIA
Here,
You Encounter
Wonder


Related Massagers:
A gift for dad
Got this little gadget for my father who's had neck and back pain recently. And he loves it
The quality is good, packaging is good!
this is amazing its really cheap and gives you a lot of pain relief
Love it
I have a proper shiatsu chair, but this one is hasle free.
lightweight, convenient to use, happy with the purchase, thank you!
Good package
As soon as I first tried this massager I fell in love with it. It feels incredible- like you're getting a full shoulder and back massage by strong vigorous hands! It was so simple and easy to use- just opened the box, strapped it onto my foot and legs and it starting working its magic right away!I loved trying the different modes, heat levels and intensity. The low intensity is very gentle