Remote Control Smart Neck Massager
Regular price
$105.00 USD
Sale price
$59.99 USD
Unit price
per
Sale
Sold out
🔥Buy 2 Get 20% OFF Today🔥No Code Needed🔥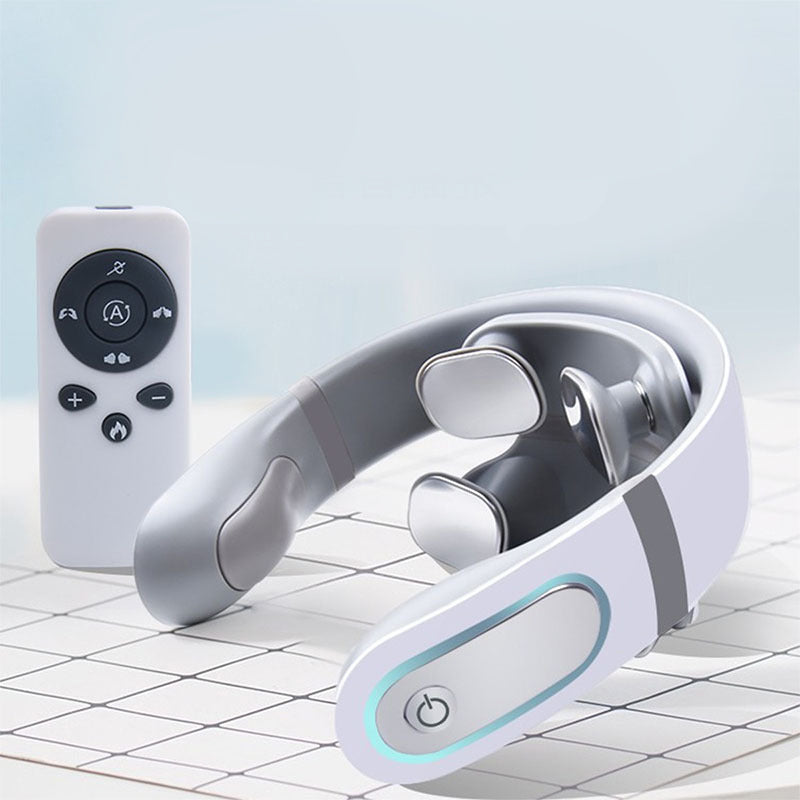 Rechargeable
Rechargeable battery allows you to enjoy a comfortable massage for 40 Hours after 2 hours of full charge (If use 15 minutes per day).
Remote & Voice Prompts
With handy remote control, you can access to 5 different massage modes and adjust 20 tensity levels easily.
Constant Heat
100.4°F - 107.6°F Constant Heat. Heatable TENS pulses with multifunctional massage modes to improve the relaxation of muscles and nerves in your neck.
5 Modes & 20 Tensity Levels
Use the remote to choose 5 different massage modes and tensity levels. Easy peasy. Massage Lotion Included
We Got You!
Neck pain is a common complaint in the United States. Neck can be strained from sleeping with your neck in a bad position, jerking your neck during exercise and poor posture-whether it's leaning over your computer or hunching over your workbench. This wireless neck massager is a way to achieve deep relaxation of cervical spine. Getting frequent massages can be most beneficial.
5 in 1 Massager
Combined Massage Manipulation

Shiatsu Manipulation

Pulse Manipulation

Beating Manipulation

Percussion Manipulation

20 Tensity Levels
TENS Therapy
The TENS pulse therapy + hot compress design, could promote the circulation, help to easy the neck pain and alleviate headache. TENS devices provide drug-free pain relief for sore muscles. Electric pulse massage is good for circulation which can refresh your blood. They may also stimulate the production of endorphins, which are the body's natural painkillers. Drug-free, no side effects.
COMFORTABLE TO WEAR
The skin-friendly, breathable soft silicone base makes the electrodes floating at 360 degrees, and the U-shaped traction is closer to the skin. Smart 3D ergonomics design, and the stainless-steel pads on the massage head will fit most of neck sizes and neck curve. Comfortable as well as functional.
BENEFITS BEHIND
Rechargeable
via USB
At Home Massage
Enjoy It Anywhere
CE Approved
Absolutely Safe
TENS
Pulse Massage
Constant Heat
Warm and Calm
Relax
Drug Free Neck Pain Relief
How to Bring the Best of Neck Massager
1. We suggest you tab your neck with wet and warm towel or lotion before every use;

2. You may feel a little discomfort the first time you use it. If any discomfort does occur, you can turn down the tensity level or tab more water on your neck;

3. There are 7 different massager modes to choose from. Choose one that suit you best
Free Shipping
Enjoy Free Shipping Today
Effective Pain Relief
Drug Free Neck Pain Relief
Live Chat
Professional Support
You can control 15 intensity levels with remote control or "+" "-" buttons on the massager.

Fashion and Smart appearance, Shopping and working are not awkward! The built-in large-capacity charging power allows you to enjoy a comfortable experience for a long time.
Whatever you do, Wonder will help
Here,
You Encounter
Wonder

Related Massagers:
I liked this massager. Due to my work in dentistry, I have so many problems in neck part and it's really helpful. I feel relaxed after one good massage.
PENNY - CANADA
The neck massager was well needed as I found out I had a pinched nerve which turned out to have an operation in late November.
Moses - USA
I like that it relieves the pain and relaxes the back of my neck so I can relax.
ROBIN - USA
I bought this for my daughter to uses a computer for many hours a day, sometimes as many as 10 or 12 hours a day. She loves it.
TED - AUSTRALIA
life saver
The massager works perfectly
Saved my neck pain!
Very easy to use. Wonderful little gadget for my neck. Charge it up, read the instructions, then wrap it around my neck and lean back and enjoy it.
remarkable
It helps me maintain a pain free lifestyle and for that I am extremely grateful. And the lotion smells great! Will get another one for my colleague.
A neck massage that works.
Constantly plagued by neck muscle pain. Hate to be tied to a heating pad and electric outlet. This is the best solution to comfort and maneuverability. Fifteen minutes of this therapy and my neck pain diminished to near zero and full mobility to turn my head was restored. Love this product - it was definitely worth the money. Highly recommend.
Good call
It works as advertised. no complaints