Smart Neck Massager
Regular price
$69.00 USD
Sale price
$49.00 USD
Unit price
per
Sale
Sold out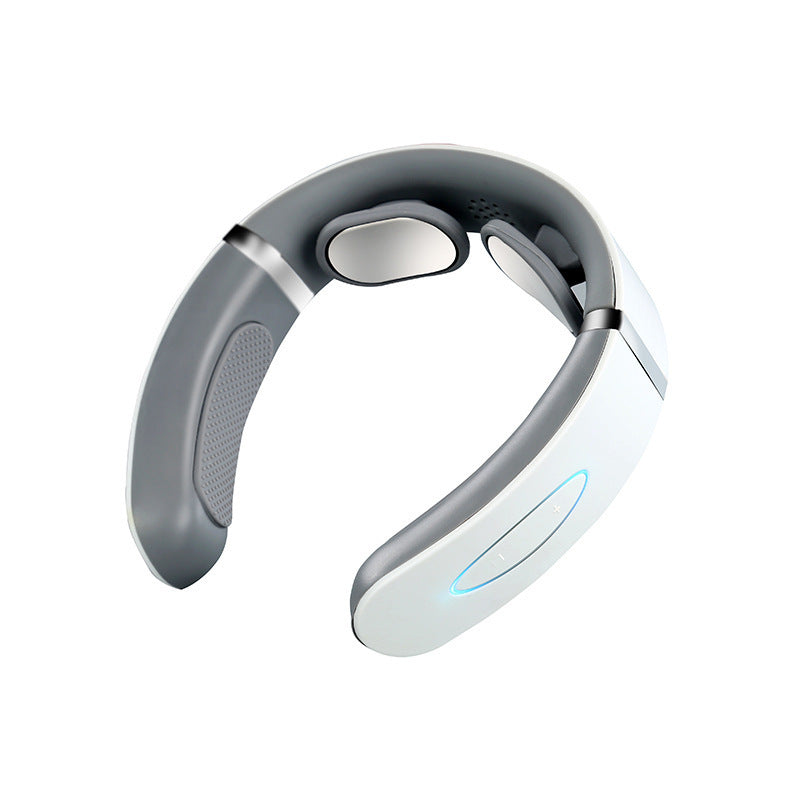 We Got You!
Neck pain is a common complaint in the United States. Neck can be strained from sleeping with your neck in a bad position, jerking your neck during exercise and poor posture-whether it's leaning over your computer or hunching over your workbench. This wireless neck massager is a way to achieve deep relaxation of cervical spine.
Rechargeable
Rechargeable battery allows you to enjoy a comfortable massage for 40 hours after 2 hours of full charge (If use 15 minutes per day).
TENS Pulse
Heatable TENS pulses with multifunctional massage modes to improve the relaxation of muscles and nerves in your neck.
Constant Heat
100.4°F - 107.6°F Constant Heat
7 in 1 Massage
7 MODES ADJUSTABLE - Keep pressing the power button for 3 seconds to start. 7 massage modes offer various massage experience to meet your need, suitable for enjoying personalized massage.
7 in 1 Massager
Knead Manipulation

Acupuncture Manipulation

Acupressure Manipulation

Pulse Manipulation

Beating Manipulation

Percussion Manipulation

Massage Manipulation
TENS Therapy
The TENS pulse therapy + hot compress design, could promote the circulation, help to easy the neck pain and alleviate headache. TENS devices provide drug-free pain relief for sore muscles. Electric pulse massage is good for circulation which can refresh your blood. They may also stimulate the production of endorphins, which are the body's natural painkillers. Drug-free, no side effects.
COMFORTABLE TO WEAR
The skin-friendly, breathable soft silicone base makes the electrodes floating at 360 degree, and the U-shaped traction is closer to the skin, which can adjust automatically and fit tightly of Americans' neck size.
Portability
Smart 3D ergonomics design, and the stainless-steel pads on the massage head will fit most of neck sizes and neck curve. Comfortable as well as functional.
BENEFITS BEHIND
Rechargeable
via USB
TENS
Pulse Massager
CE Approved
Safe to Use
Constant Heat
100.4°F - 107.6°F Constant Heat
Relief
Drug Free Pain Relief
At Home Massage
Enjoy It Anywhere
How to Bring the Best of Neck Massager
1. We suggest you tab your neck with wet and warm towel or lotion before every use;

2. You may feel a little discomfort the first time you use it. If any discomfort does occur, you can turn down the tensity level or tab more water on your neck;

3. There are 7 different massager modes to choose from. Choose one that suit you best
Free Shipping
Enjoy Free Shipping Today
Effective Pain Relief
Get Rid of Neck Sore
Live Chat
Professional Support
Material: Silicone & Stainless Steel

Massager Weight: 0.35 kg / 0.77 lbs.

Package Weight: 0.5 kg / 1.1lbs.

Massage Heads: 2

First Release: 1st Jan. 2022

Model:WM01
Whatever you do, Wonder will help
Here,
You Encounter
Wonder

Related
Massagers:
Make sure you lightly wet your neck before using it. I highly recommend this neck massager, especially if you suffer from neck sore.
LENARD - USA
Small, lightweight and good battery life. Heats up nicely without getting too hot. Recommend it.
HUGO - CANADA
What makes this massager stand out from the rest is how it sends electricity directly into your neck. This stimulation brings me great relief.
JANE - USA
This small, portable, neck relief massage ris fabulous... and wireless. I can walk around n sit freely with it, ease of use is great!
JACKIE - AUSTRALIA
I really enjoy this product!
I love the heat option for my neck. I also love the pulsing mode how it squeezes my muscles.
Just… Wow!!
It is extremely well-made and clearly well-designed and I would even say it is bordering on professional quality. Love it when I bring it to the office
Great for old injuries
Bought this for my gf since she was a lacrose player with an old injury. Really helps her relax before bedtime.
Finally it hits the points I need it.
It goes on trips with me and when I'm home, I keep it handy and am finding a lot of use. Relaxes those very tight muscles that seem to start in the morning
it turns out fabulous
I was a little skeptical about the efficiency, but the reviews seemed good and price very reasonable. So I bought it. And it turns out fabulous