Intelligent Neck Massager Blue
Regular price
$89.00 USD
Sale price
$65.00 USD
Unit price
per
Sale
Sold out
🔥Buy 2 Get 20% OFF Today🔥No Code Needed🔥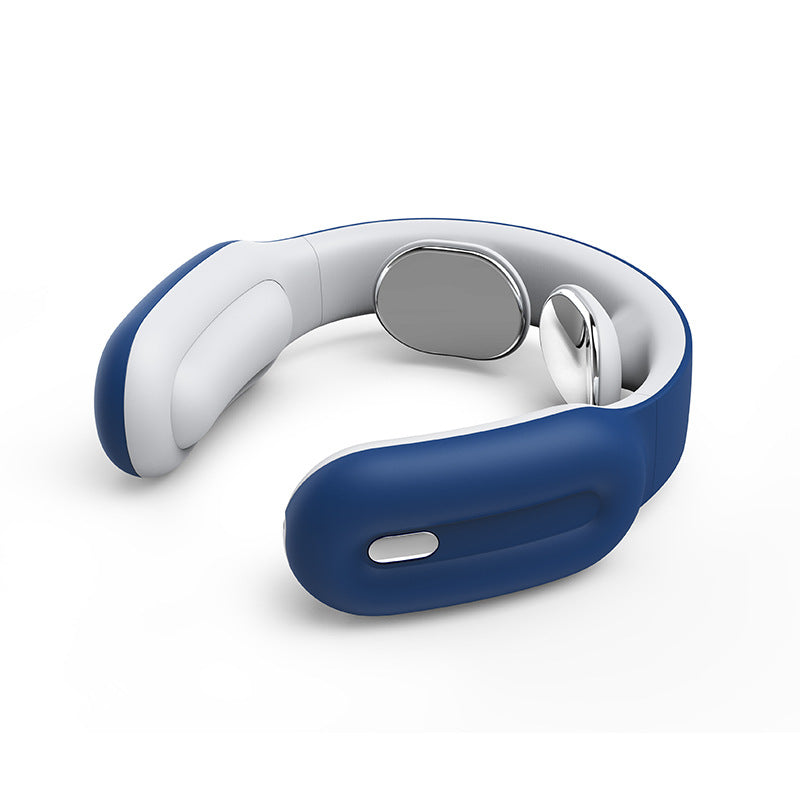 We Got You!
Neck pain is a common complaint in the United States. Neck can be strained from sleeping with your neck in a bad position, jerking your neck during exercise and poor posture - whether it's leaning over your computer or hunching over your workbench. This wireless neck massager is a way to achieve deep relaxation of cervical spine. Getting frequent massages can be most beneficial.
Enjoy Customer Massage Modes
Mode 1: Kneading Massage Simulation - for Mild to Moderate Neck Pain

Mode 2: Percussion & Beating Massage Simulation - for Moderate to Intense Neck Pain

Mode 3: Auto Mode: Combine Mode 1 & Mode 2
TENS Therapy
The TENS pulse therapy + hot compress design, could promote the circulation, help to easy the neck pain and alleviate headache. TENS devices provide drug-free pain relief for sore muscles. Electric pulse massage is good for circulation which can refresh your blood. They may also stimulate the production of endorphins, which are the body's natural painkillers. Drug-free, no side effects.
COMFORTABLE TO WEAR
The skin-friendly, breathable soft silicone base makes the electrodes floating at 360 degree, and the U-shaped traction is closer to the skin, which can adjust automatically and fit tightly of Americans' neck size.
BENEFITS BEHIND
Rechargeable
via USB
At Home Massage
Enjoy It
CE Approved
Absolutely Safe
TENS
Pulse Massage
Warm
100.4°F - 107.6°F Constant Heat
Relax
Drug Free Neck Pain Relief
Take It Anywhere with You
1
Home
Easily enjoy a good massage at home. No rush, relax.
2
Work Places
Feeling fatigue at office or study? No worries. Enjoy an effective neck massage whenever you want at work!
3
Portable
Extremely light in weight. You can even wear it for sports.
How to Bring the Best of Neck Massager
1. We suggest you tab your neck with wet and warm towel or lotion before every use;

2. You may feel a little discomfort the first time you use it. If any discomfort does occur, you can turn down the tensity level or tab more water on your neck;

3. There are 7 different massager modes to choose from. Choose one that suit you best
Free Shipping
Enjoy Free Shipping Today
Effective Pain Relief
Drug Free Neck Pain Relief
Secure Payment
via Credit Cards or PayPal
Whatever you do, Wonder will help
I liked this massager. Due to my work in dentistry, I have so many problems in neck part and it's really helpful. I feel relaxed after one good massage.
PENNY - CANADA
The neck massager was well needed as I found out I had a pinched nerve which turned out to have an operation in late November.
Moses - USA
I like that it relieves the pain and relaxes the back of my neck so I can relax.
ROBIN - USA
I bought this for my daughter to uses a computer for many hours a day, sometimes as many as 10 or 12 hours a day. She loves it.
TED - AUSTRALIA
Here,
You Encounter
Wonder


Related Massagers:
Very nice
Though it does not vibrate so much, but it releases my neck pain effectively and hence I love it
Excellent product
I just figured it would be moe selections for heat and massage
LOVE IT!
I absolutely LOVE this product! Sometimes your neck just needs a little more then just heat! I think it is the 3rd setting I use the most.
You should try this
I got this for my partner, she has chronic neck discomfort, as well as she absolutely enjoys it. It eliminates her pain and she can not be better. Great item, wonderful cost and terrific high quality product.